Retrofit Spray Foam Insulation for Existing Homes in Michigan
How do I know if I need spray foam or cellulose wall insulation?
The simple answer is to place your hand on the walls facing the exterior of your home. If you are inside your warm home in the winter and the walls are cool to the touch…YOU NEED IT. If your furnace is kicking on every hour (or worse every few minutes) YOU NEED IT!
Did you know that almost NO homes built before 1970 in Michigan have insulation in their exterior walls? The few homes that do have any exterior wall insulation do not even meet current Michigan Energy Code requirements.
We retro-fit foam into existing exterior walls! Spray foam insulation in your exterior walls can reduce your heating and cooling bills by more than 40%! That is more than cellulose, fiberglass, or wool attic insulation can do.
Tripolymer Foam Insulation is:
Efficient – Higher R value than other insulation products
Cost Effective – Less expensive to install than most competing products
Fire Resistant – Increases in fire ratings from 50% to 150%!
Sound Proofing – Safest and highest quality thermal & acoustical foam insulation available
Safe – No formaldehyde emissions, CFC free, and non-corrosive!
Be aware that many contractors will use Urea-Formaldehyde products which can not only emit dangerous gasses into your indoor air, but are also costly to remove and can lower the value of your home!
Installation
Polyurethane foams come in separate containers, and is injected into your exterior walls. This process can be done on sided as well as brick homes. Our foam is ideal for Insulating and Sealing jobs that require a product designed for spray application over large surface areas or for filling large voids and gaps. Our process is a chemically cured foam system. Dispensed through a dispensing tool, the foam and its curing agent are mixed at the nozzle and cures very quickly.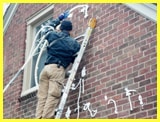 Fast chemical curing results in a higher expansion ratio for our polyurethane foams. This makes them suitable for spray-on applications and for filing holes and cavities. They have an R-value (aged) of approximately 6.0 per inch. That is higher than any batt, cellulose, or fiberglass insulation placed in the cavities or walls.
Residential Applications
Spray Polyurethane Foam (SPF) insulation is rigid, lightweight, flexible, wind resistant, and effective in extreme temperatures and weather conditions. Spray foam insulation has the highest R-value per square inch of any commercially available insulation material.
Total Comfort Control, Not Just R-Value
The building envelope is a system of construction components which protect against the uncontrolled movement of heat, air, and moisture.
The true performance of your building envelope can not be measured with the R-value of the insulation alone, but must also consider air movement, moisture control, health, safety, durability, comfort, and energy efficiency.
This is true whether your building is commercial, residential, or multifamily: Spray foam addresses all these needs in addressing improvements to existing structures.
Six Mechanisms of Heat Loss through a Wall or Ceiling That Are Bad for Your Home and Your Health
Conduction
Radiation
Convection Currents
Infiltration (Wind Pressure)
Intrusion (Wind Wash)
Moisture Accumulation (Humidity, Dew, and Frost)
Did you know?
Air infiltration can increase energy costs in buildings 10 to 40%.
SPF reduces air infiltration allowing insulation to be more effective and reducing the demands on HVAC equipment.
SPF reduces moisture infiltration by reducing air leakage.
SPF adds structural strength to walls and ceilings.
SPF reduces sound transfer into buildings. Most sound from outside the building is carried into the building through cracks and air leaks. SPF by stopping the air infiltration also helps keep sound out.
SPF minimizes dew point problems and condensation.
SPF resists heat transfers through air infiltration regardless of flow direction.
SPF provides reliable R-values under the most extreme conditions, dependable and durable protection against heat loss or gain.
SPF minimizes thermal bridging, which can cause higher energy usage and cost.
SPF out-performs conventional insulation materials because they trap still dry air and if that air moves or becomes wet, the thermal resistance can drop by 50%.
According to ASHRAE, a 3% void area in a wall cavity represents a 15% reduction in wall R-value.
Spray foam insulation could be the best insulation system yet invented.
Look at the following advantages:
On the inside of the wall panel of a building it has an extremely high R value, it has been shown to dramatically increase the racking strength in steel and timber frame buildings, in some instances has been specified to prevent wind uplift in commercial roofing systems.
On the outside of the building it can be used as a combined vapor and air barrier system and is recognized as such when applied to the American Air Barrier Association standards. It can also be used below grade for the insulation of basements and foundation.
It does not emit VOCs or hydrocarbons and has a proven track record over the last 20 years.
Contact Us for a Free Estimate Today!
Services
ROOFING
INSULATION
SIDING
WINDOWS
& MORE
Areas
LIVINGSTON
OAKLAND
WASHTENAW
WAYNE
& MORE
Info
Ms. GREEN CONSTRUCTION
734-222-0683
License #2102196205
THE ENERGY SAVING EXPERTS
serving homeowners & condominiums in southeast michigan for a long time!