Cellulose Insulation in South East Michigan
Green Home Insulation Manufactured in Michigan!
Ms Green Construction is your source for high quality, professional installation of green cellulose insulation in Livingston, Oakland, Washtenaw, and Wayne Counties. Properly installed insulation is one of the best investments you can make in your home. Ms. Green Construction's Cellulose Insulation professionals will increase your return on investment and comfort over other insulation products. Your new Cellulose Insulation will qualify for Federal Tax Credits of 10% or $500.00!
FYI – We're Having an Insulation Sale!
Why is Cellulose Insulation Better?
How is Cellulose Insulation Greener?
Toxicity – A Comparison of Health Concerns:
| Concern | Fiberglass | Cellulose |
| --- | --- | --- |
| Microscopic, respirable glass fibers? | YES | NO |
| Formaldehyde? | YES | NO |
| NTP classified probable carcinogen? | YES | NO |
| Specified dust-mask rating required for install? | YES | NO |
Cellulose Insulation is Perfect for Michigan's Extreme Weather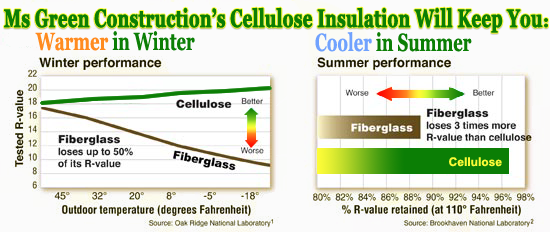 Contact Us for More Information
Services
ROOFING
INSULATION
SIDING
WINDOWS
& MORE
Areas
LIVINGSTON
OAKLAND
WASHTENAW
WAYNE
& MORE
Info
Ms. GREEN CONSTRUCTION
734-222-0683
License #2102196205
THE ENERGY SAVING EXPERTS
serving homeowners & condominiums in southeast michigan for a long time!