Accessibility Renovations
Accessibility Renovations in Michigan: Transforming Spaces for All!
At Ms. Green Construction, we believe that everyone deserves a safe, comfortable, and inclusive living environment. That's why we specialize in home renovations for accessibility, with a particular focus on kitchens, bathrooms, and stairs. Our mission is to create spaces that empower individuals with diverse mobility needs to live independently and with dignity.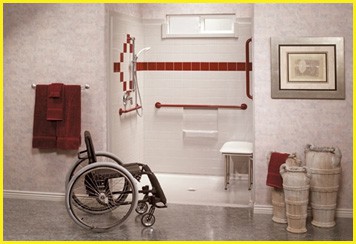 Kitchens: The heart of any home, the kitchen should be a place where everyone can gather, create delicious meals, and enjoy time together. Our team of experienced professionals at Ms. Green Construction is dedicated to designing and renovating kitchens that are fully accessible. From lower countertops and adjustable cabinets to wheelchair-friendly appliances and ergonomic layouts, we ensure that every element is tailored to meet your unique requirements. With our expertise, we'll transform your kitchen into a functional and beautiful space that accommodates your mobility needs without compromising on style.
Bathrooms: Bathrooms are vital spaces that should offer privacy, safety, and convenience for all individuals. Our accessible bathroom renovations at Ms. Green Construction prioritize safety and ease of use, incorporating features such as grab bars, non-slip flooring, roll-in showers, and adjustable-height fixtures. We pay attention to every detail, including wider doorways for wheelchair access and strategically placed lighting for enhanced visibility. With our commitment to accessibility, we'll create a bathroom that is both practical and luxurious, ensuring that you can navigate with confidence and independence.
Stairs, Ramps, and Lifts: Navigating stairs can be challenging for individuals with limited mobility. That's why we specialize in creating accessible solutions such as ramps and lifts at Ms. Green Construction, ensuring effortless movement between different levels of your home. Our team will carefully assess your space and propose the most suitable option, whether it's an elegantly designed ramp that seamlessly blends with your existing architecture or a compact and efficient lift that provides easy access. Our goal is to eliminate barriers and make your home fully accessible, promoting freedom of movement and enhancing your overall quality of life.
Why Choose Ms. Green?
Expertise: Our team of professionals at Ms. Green Construction has extensive experience in accessible home renovations, ensuring top-quality craftsmanship and attention to detail.
Customization: We understand that every individual has unique needs and preferences. That's why we offer personalized solutions tailored to your specific requirements and style.
Quality Materials: We only work with trusted suppliers and use high-quality materials to guarantee long-lasting results and maximum durability.
Compliance: Our renovations adhere to all accessibility guidelines and building codes, ensuring your home meets the necessary standards for safety and accessibility.
Customer Satisfaction: We take pride in our commitment to customer satisfaction. We work closely with you throughout the entire renovation process, providing regular updates and addressing any concerns promptly.
Ready to transform your home into an accessible haven? Contact Ms. Green Construction today to schedule a consultation with our expert team. Together, let's create a space that embraces inclusivity and empowers you to live life to the fullest.
Contact Us for a Free Estimate Today!
Services
ROOFING
INSULATION
SIDING
WINDOWS
& MORE
Areas
LIVINGSTON
OAKLAND
WASHTENAW
WAYNE
& MORE
Info
Ms. GREEN CONSTRUCTION
734-222-0683
License #2102196205
THE ENERGY SAVING EXPERTS
serving homeowners & condominiums in southeast michigan for a long time!